As we get closer to the release of the next-gen consoles many "curent-gen" games arise to prove that we had a good run for PS3 and Xbox360. The Last of Us is one of those prove and seems to be the best survival horror game till date and this says a lot about it with so many games which failed to deliver quality experience within this genre. With perfect score on reviews from major gaming sites could mean on thing for sure, those gameplay videos which were presented last year are part of the entire game. You should already know my opinion about this game by now, all left to say it's: Enjoy this great experience!
DUPLEX has some notes regarding the required firmware and the size of the game, quoted from the .nfo:
Notes:

Prepatched to FW 4.20+ , when going online on FW < 4.40 skip facebook crap. This game has a bigfile and needs to be played on internal hdd.
UPDATE1: There is a DLC Unlocker also from DUPLEX which pre'd shortly after the release of the game, infos below:
The.Last.of.Us.DLC.Unlocker.PS3-DUPLEX
.nfo | 79.74 KB | duplex-the.last.of.us.dlc.unlocker
Genre: Third Person Action-Adventure, Survival Horror
Release Date: Jun 14, 2013
Platforms: PS3
Gameplay Modes: Single-Player, Multi-Player
Developer: Naughty Dog
Ratings: Metacritic: N/A

The.Last.of.Us.PS3-DUPLEX
Internal HDD | 32.75 GB | duplex-lastofus
Description: Abandoned cities reclaimed by nature. A population decimated by a modern plague. Survivors are killing each other for food, weapons; whatever they can get their hands on. Joel, a brutal survivor, and Ellie, a brave young teenage girl who is wise beyond her years, must work together if they hope to survive their journey across the US.
Joel, a ruthless survivor with few moral lines left to cross, lives in one of the last remaining Quarantine Zones. These walled-off, oppressive cities are run by what's left of the military. Despite the strict martial law, Joel operates in the black market of the city, smuggling contraband for the right price. Joel is asked by a dying friend to look after Ellie, a fourteen-year-old girl with courage beyond her years.
What starts out as a simple job to deliver Ellie to another Quarantine Zone, soon transforms into a profound journey that will forever change Joel and Ellie. As they trek across a post-pandemic United States, Joel and Ellie will encounter different factions of survivors that have each found a unique way of dealing with the infected humans, the lack of supplies, and the threat of other survivors.
As Joel and Ellie struggle to persevere, they must learn to trust each other and work together in order to survive the realities of this new world. At its core, The Last of Us is about the bond that forms between Joel and Ellie – it is the story of love, loyalty, and redemption.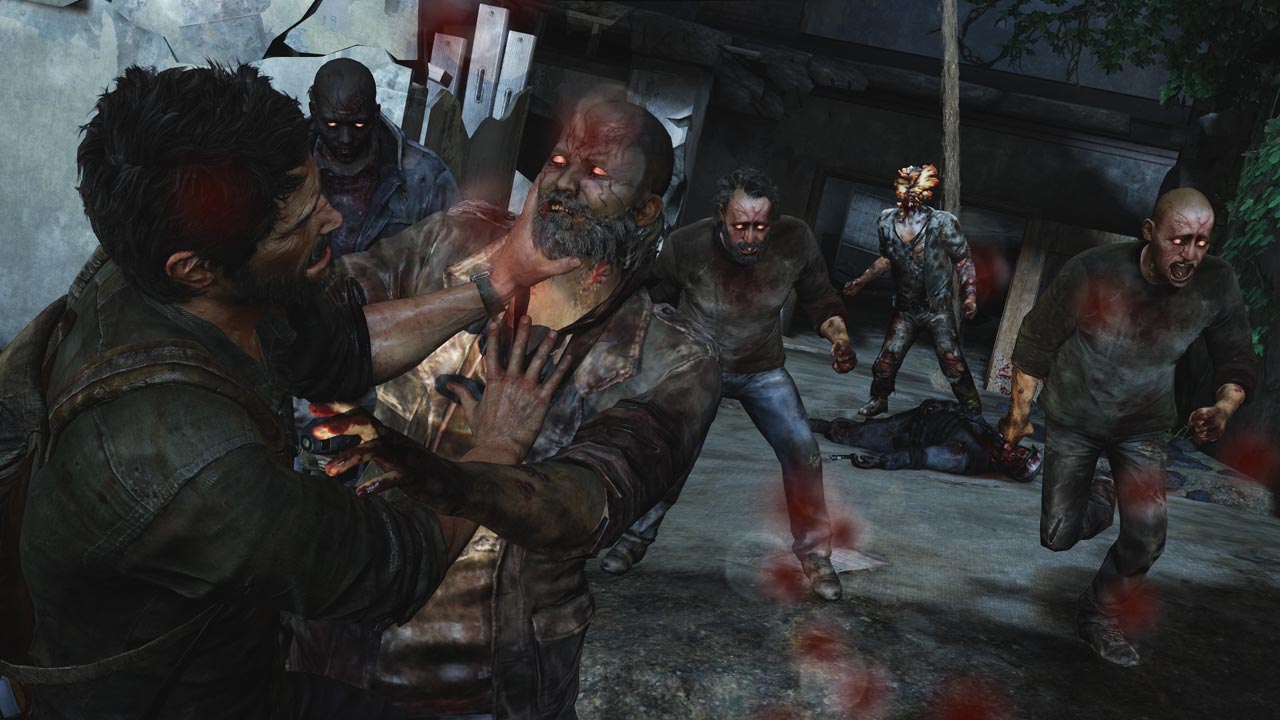 Features:
Become the hunter and the hunted in a brutal post-pandemic world. Play as Joel, a ruthless survivor, who is paired with Ellie, a brave young teenage girl, as they work together to endure a dangerous trek across a familiar, yet post-pandemic United States.
Intense character-driven narrative featuring a cast of resonant characters that take you on a rich, emotional journey via Naughty Dog's award-winning cinematic storytelling, performance capture, and high-production values.
Explore a decimated, overgrown America reclaimed by nature, marked with remnants of human civilization juxtaposed against beautiful, lush environments, delivered by realistic and stunning graphics.
Learn how to survive day-by-day: scavenge for vital resources, craft weaponry out of environmental objects, and compete with other survivors for limited supplies and ammo.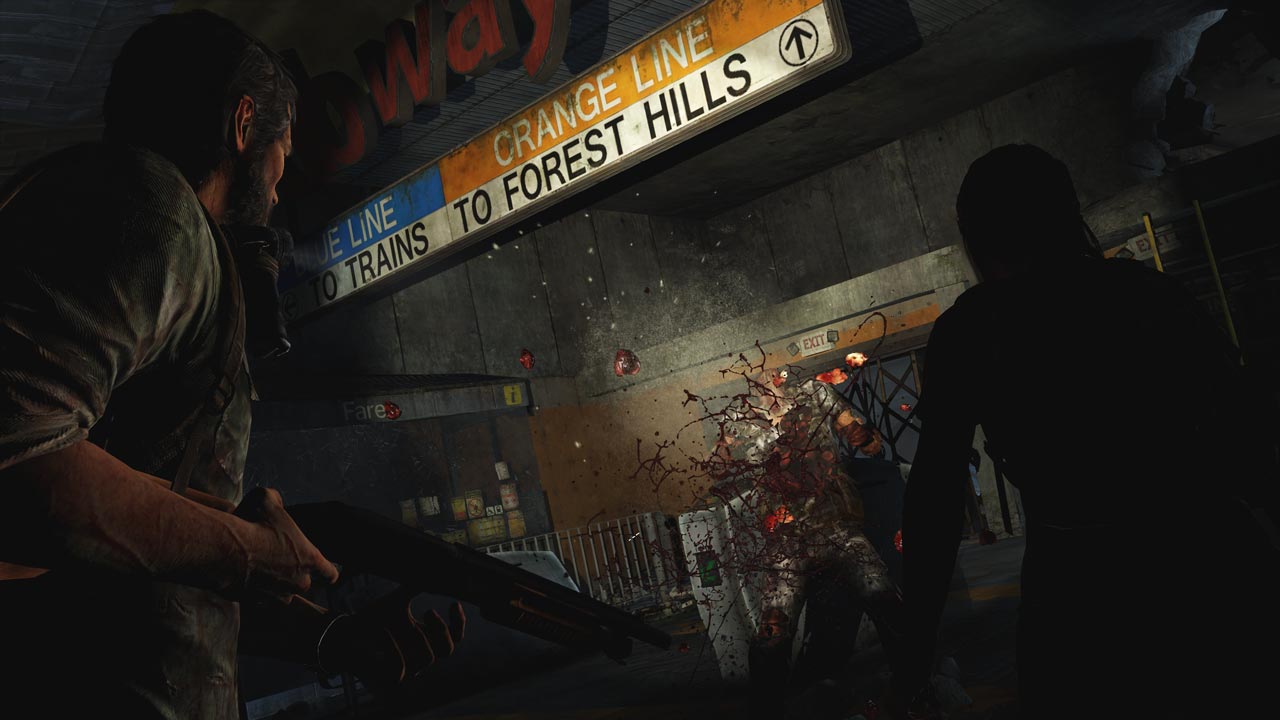 Strategize how to survive enemy encounters as the Balance of Power AI system continuously adapts to whether Joel or the enemies gain the upper hand. Quickly maneuver to survive encounters as enemies will change their behavior based on what weapon they see Joel holding, how many of them are left alive, and whether the player has managed to surprise them.
Developed by Naughty Dog, creators of the best-selling UNCHARTED series.
Genre-defining experience that blends survival and action elements.
Character driven story about a population decimated by a modern plague.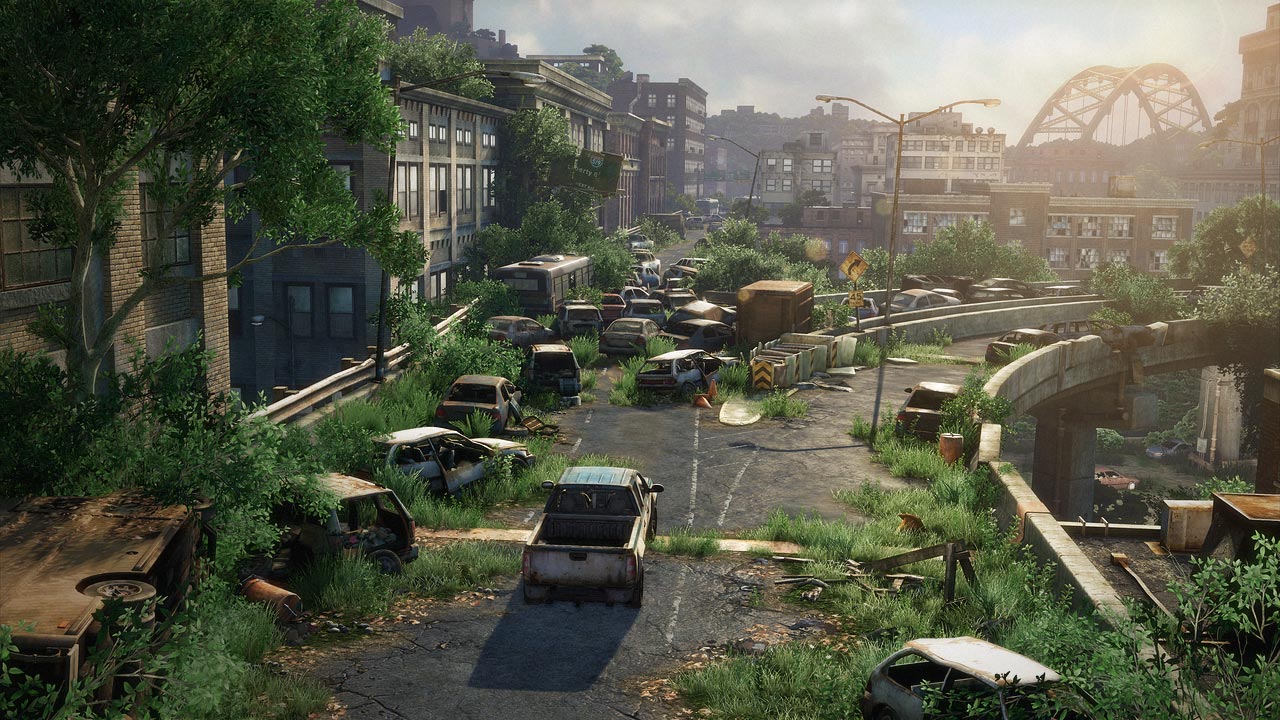 The story is set two decades after a cordyceps-type fungus has killed millions, with nature gradually retaking the abandoned cities and towns. The survivors are hemmed inside quarantine zones, completely under the heel of the United States military, with order and screening for any Infected being viciously maintained under martial law.
Joel, a hardened black-marketeer within one of the quarantine zones, goes through an event which makes him promise an old friend that he will get a young, fourteen year old girl named Ellie, away from the harsh regime to a resistance group known as the Fireflies.
They begin a journey through the U.S., avoiding the Infected, humanoid creatures whose sole aim has become spreading the fungal infection. Joel and Ellie also have to avoid scavengers that survive outside the quarantine zones who see Joel and Ellie as their latest prey. Adding to their problems, the military is determined to find Ellie and bring her back under their power.