Looks like Star Trek starts to have more fans as the years past by and now the gamers are targeted with this 3rd person action-adveture shooter. The release is handled by the veteran group iMARS whcih bring this region free release to your steps. Have fun!
Genre: Action-Adventure, Third Person Shooter
Release Date: Apr 23, 2013
Platforms: PC | Xbox360 | PS3
Gameplay Modes: Single-Player, Multi-Player
Developer: Digital Extremes
Ratings: Metacritic: N/A

Star.Trek.XBOX360-iMARS
1 DVD9 | 7.47 GB | imars-startrek
Region: Region Free
Description: The award-winning Star Trek game casts players for the first time ever as Kirk and Spock in a totally original co-op experience worthy of gamers and fans. Set in the new canon of director and producer J.J. Abrams' Star Trek (2009) reboot, players will be immersed in the game's rich story and action-packed combat.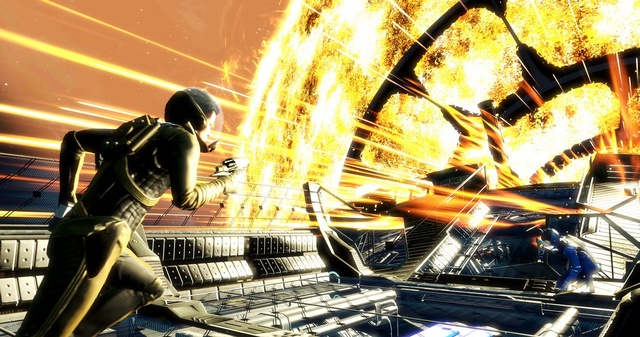 This action-packed Star Trek game is based in the continuity set up in the 2009 reboot of Gene Roddenberry's classic series by J. J. Abrams. The Star Trek video game offers a sweeping journey of epic proportions across unexplored planets and enemy battleships with the latest 23rd century weapons and gear. It boasts a story filled with action-packed combat as Kirk and Spock work together to stop a legendary enemy race bent on conquering the galaxy. And for the first time ever, players are cast as Captain James T. Kirk and Spock in an unprecedented co-op experience, where the complementary personalities of these iconic characters push players to make strategic use of their alliance.
The two characters are intended to show different gameplay techniques, with Kirk being the more typical shooter while Spock has stealth techniques and can use both the Vulcan nerve pinch and mind meld. Each are armed with weapons to reflect their gameplay style, with Kirk armed with a phaser equipped with a stun setting, while Spock's weapon is quieter and freezes enemies instead. As the player progresses through the game, they gain experience allowing them to unlock additional settings on the weapons. The Gorn are set to be the enemies of the game, attacking the New Vulcan colony.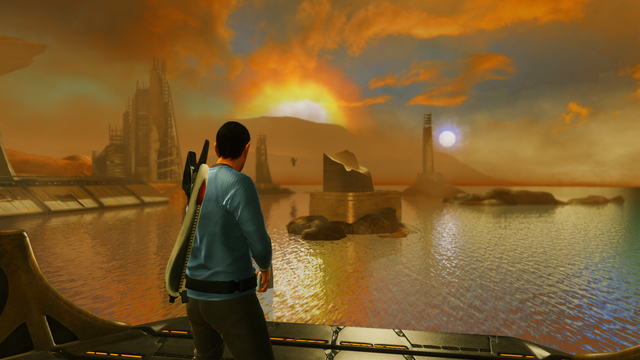 Features:
Authentic Trek Universe


Meet the crew – The 2009 Star Trek film cast contributes their voices for the game, including Chris Pine as Kirk and Zachary Quinto as Spock.
Experience all new-story – Set after the events of the 2009 theatrical hit, STAR TREK continues the sweeping journey through the new universe with a completely original story.
Explore the universe – Uncover new areas of the U.S.S. Enterprise, explore never-before-seen sectors throughout the galaxy including exotic planets, treacherous jungles, remote space stations, and venture onto New Vulcan.

Kirk & Spock asymmetricak Co-op play


Ultimate co-op – Built from the ground up as a co-op experience, Star Trek packs two different gameplay styles and unique character abilities into one game. The result: the most fully realized co-op experience of this console generation.
Kirk and Spock reborn – Play for the first time as two of the greatest science-fiction heroes ever. With the fate of the galaxy on the line, players must rely on each other to create a kick-ass team.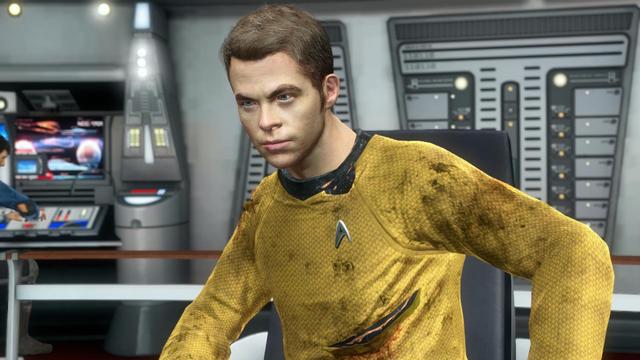 Epic action adventure

The Gorn return – Determined to conquer the galaxy, the Gorn return as re-imagined versions of the classic Star Trek villains, infecting their foes with venom that can poison, cause hallucinations, and even kill. Ranging in size and abilities, the Gorn seed mayhem and destruction as they decimate populations and ravage planets.
Scope and variety – Authentic set pieces and ever-changing gameplay underscore the amazing STAR TREK adventure. Hijack enemy battleships, jump precariously through zero-G onto moving spaceships, and swim through subterranean waterways.
23rd century weapons – Employ a wide variety of weapons and gear, that put you in complete control of a huge array of 23rd Century technology, including unique signature weapons for Kirk and Spock. Combined with your character's special skills, every encounter and every no-win situation turns out differently based on who, what and how you play.