Welcome to the 3rd expansion of Might and Magic Heroes VI. Once the leading game in the turn-base strategy genre is now a game of mixed feelings between players, old fans or newcomers. But Ubisoft is still showing interest in the franchise and delivers new content. This is where group RELOADED comes into place with this release. Be aware this is not a standalone game as you can see in the quote below. Have fun with it!
Due to Ubisoft fuckup this release is not standalone – it requires Might & Magic Heroes VI Gold Edition installed and updated to version 1.8. Update 1.7.1 to 1.8 can be found in the /Update directory on the image. All other DLCs are included and unlocked too.
Genre: Turn-Base Strategy
Release Date: May 2, 2013
Platforms: PC
Gameplay Modes: Single-Player, Multi-Player
Developer: Ubisoft
Ratings: Metacritic: 3.3 (0 critics)

Might.and.Magic.Heroes.VI.Shades.of.Darkness-RELOADED
1 DVD5 | 2.32 GB | rld-hmm6sod
Protection: UbiDRM
Description: A century after the tragic events of Might & Magic Heroes VI, that determined the heroic fate of a dynasty, Shades of Darkness recounts, in two original campaigns, pivotal moments in Ashan's darker history that will define the future of a decadent underground people and decide the survival of the dying cult of the Spider Queen. Determine the fates of two legendary factions; the Dark Elves of Dungeon and the Necromancers of Necropolis.
The gameplay of Heroes VI mainly follows in the same vein taken by its predecessor, i.e. hero-based faction-affiliated development. As such, every faction has two types of heroes, every unit has an upgrade and turns affect combats as they affect the general gameplay. There are substantial changes, however, and these include the replacement of magic guilds by the creation of spells/abilities wheel, in addition to the skills wheel.
New affiliations called "Tears" or "Blood" appear and play a major role in hero development, notably influencing their skills. For instance, a "Tears" affiliated hero will have more defensive/beneficial buffs and his or her reputation will allow for more peaceful negotiations between potential enemies. A "Blood" affiliated hero, on the other hand, will profit from destructive/dark abilities and gain bonuses in adversary combat aimed to hurt the opponents.
The player's possessions are still regrouped in "Kingdoms", though now it's not just an overview, but also a part of the map "owned" by that player. The presence of a town determines who owns the land itself.
All forts, mines/deposits and occasional goods givers now automatically replenish the army and the wealth of this player even if another player's heroes "flag" them. This situation lasts as long as the player is the owner of this given town. Only a few buildings within the area still remain neutral to whomever visits them. The feature was reported as a big improvement of the gameplay since the previous games, as players no longer need to garrison their mines and dwellings located outside town for protection, even though it was also criticized as being "too easy" by some older fans.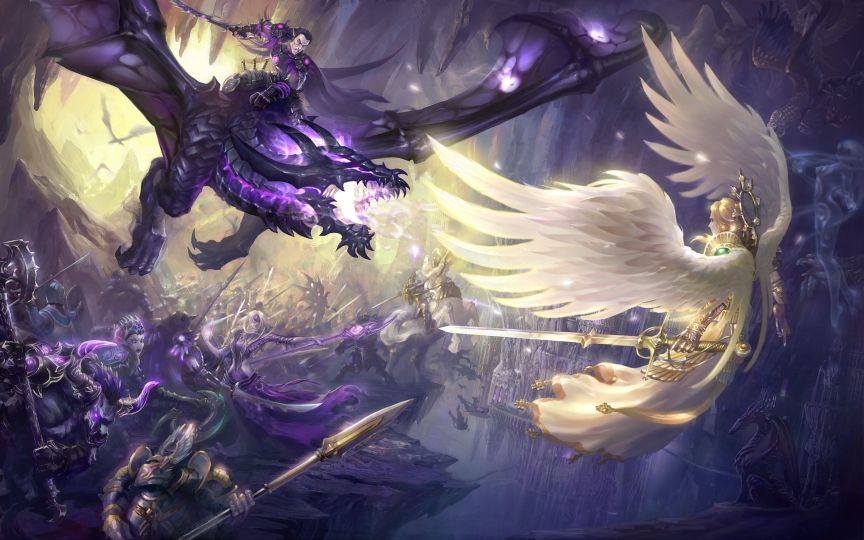 Features:
Master the Powers of Darkness: Lead the new Dungeon faction on a path to define the destiny of the Dark Elves as they seek to become masters of deception, stealth, and assassination. Their future lies with Malassa, the Dragon Goddess of Darkness. Befriend her mysterious children, the Faceless, and if you dare, awaken her avatars, the legendary Black Dragons!
New Content and Original Tactics: A new lineup of seven creatures, new Hero classes, a new town and building set, a new mount, dozens of new artifacts, abilities, and achievements. Dungeon gameplay is completely original and a tactical challenge.
Ashan's Darkest Paths: Play two original and thrilling campaigns starring two fan-favorite factions and their legendary Heroes pitted against villains of mythical stature. Discover the fascinating nuances of Darkness and the rich and proven fantasy setting of Might & Magic. There is always an even darker path…
The Must-Have Might & Magic Heroes VI Expansion: Shades of Darkness is a compelling conclusion to the Might & Magic Heroes VI experience and an indispensable addition to every fan's collection.
Stand-Alone Expansion and Ideal Initiation: Shades of Darkness is an epic initiation for first-time players and an ideal way to discover the critically acclaimed gameplay of Might & Magic Heroes VI.
Experience a Unique Mix of Turn-Based Strategy and RPG:Explore extra-large adventure maps, collect resources, and build extraordinary cities. Perfect your tactics and level up your Heroes, recruit troops, and lead them for combat on tactical battle maps.
Rediscover the Richness of Might & Magic: Discover fantastic landscapes and creatures from the world of Ashan. Enjoy improved 3D designs and brand-new Town Screens.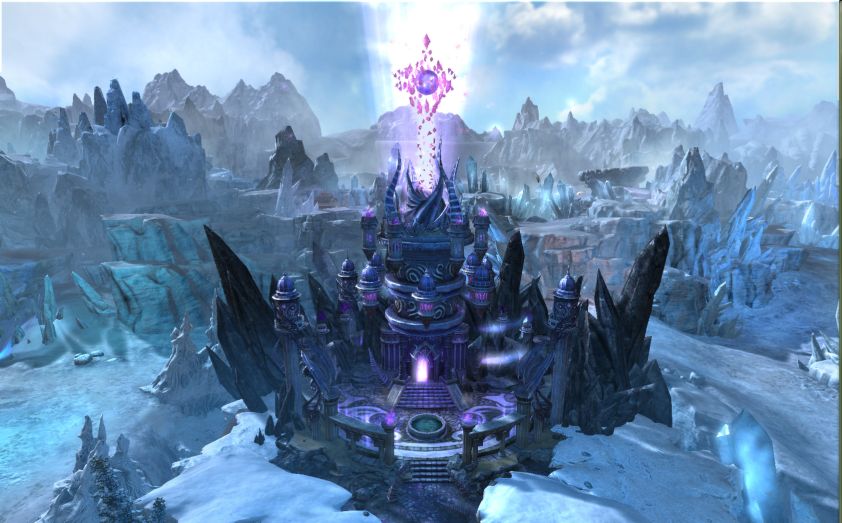 Minimum System Requirements:
OS: Windows® XP / Windows Vista® / Windows® 7 (only)
Processor: 2.0 GHz Intel® Core™2 Duo E4400 or 2.6 GHz AMD Athlon™ X2 5000+(2.0 GHz Intel Core 2 Duo E6400 or 2.8 GHz AMD Athlon II X2 240 or higher recommended)
Memory: 1 GB Windows XP or 1.5 GB Windows Vista/7 (2 GB recommended)
Graphics: 512 MB DirectX® 9.0c-compatible or higher recommended (see supported list)*
DirectX®: 9.0c
Hard Drive: 11 GB
Sound: DirectX 9.0-compliant sound card *Supported Video Cards at Time of Release: NVIDIA® GeForce® 8600/9/200/400/500 series ATI Radeon™ HD 2600/3000/4000/5000/6000 series Laptop versions of these cards may work, but are not supported. These chipsets are the only ones that will run this game. For the most up-to-date minimum requirement listings, please visit the FAQ for this game on our support website at: http://support.ubi.com.