A late post but with a good reason: the release of a proper version. Beside the proper release there is a nice pre time also, with one week earlier then the offical date. So here you have pne of the best games for the PSP of all time, with new enhaced graphics which makes it look amazing, even better then the first games from PS2. If you have a PSP this one it's a must-have. Enjoy!
Proper reasons:
This UMD was given to a friend for testing purposes. It should be a Promo but it has Retail Serial. The other ind release was patched and modified, watermarked. Here is the full untouched iso
Genre: Fantasy Action Adventure
Release Date: Nov 2, 2010
Platforms: PlayStation Portable Exclusive
Modes: Single-Player
Publisher: Sony Computer Entertainment
Developer: Ready at Dawn Studios | SCE Santa Monica Studio
Ratings: 87.89% Score based on 18 reviews

God.of.War.-.Ghost.of.Sparta.EUR.MULTi5.PROPER.PSP-iND
1.07 GB | ind-gowgsp



Homepage | Wiki | Gametrailers
NFO | Lazypirate| Usenet
Description:
Set in the realm of Greek mythology, God of War: Ghost of Sparta is a single-player game that allows players to take on the powerful role of Spartan warrior Kratos. This new adventure picks up after God of War concludes, telling the story of Kratos' ascension to power as the God of War.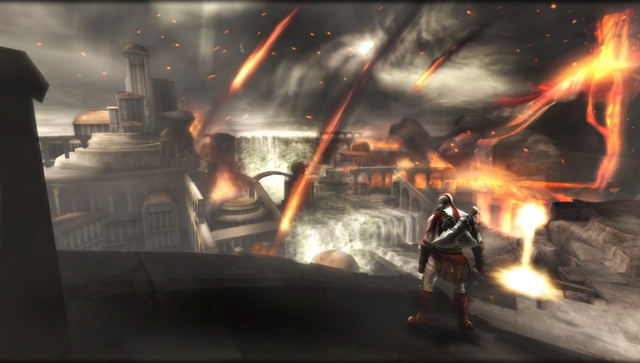 In his quest to rid himself of the nightmares that haunt him, Kratos must embark on a journey that will reveal the origins of lost worlds, and finally answer long-awaited questions about his dark past. Armed with the deadly chained Blades of Chaos, he will have to overcome armies of mythological monsters, legions of undead soldiers, and amazingly dangerous and brutal landscapes throughout his merciless quest.
As with all God of War games, Ghost of Sparta is a single player action-adventure game played from the third-person perspective that blends addictive hack and slash and puzzle play gameplay mechanics. Playing as the iconic, rage-driven Spartan warrior, Kratos, players face level after level of challenges illustrating the Ghost of Sparta's (Kratos') rise from uber warrior laboring in the service of the gods, to a god himself, following the defeat of Aries in the first game in the series.
In the process, the game reveals secrets of Kratos' past only hinted at in previous games in the series. Gameplay, especially during boss battles and puzzle play events, utilizes the familiar God of War style on-screen button prompts to secure victory and advancement, with successful battles and puzzle challenges framed by stunning in-game cutscenes.
The game features a more diverse cast of enemies, as well as bigger, badder bosses to tackle. In addition, along with Kratos' signature chain blade weaponry, Ghost of Sparta also features the ability for Kratos to utilize new weapons. These include: a spear and shield combo, which opens up the ability to combine new offensive and defensive tactics; and the Eye of Atlantis, a electrically charged handheld weapon that allows Kratos to shock enemies from afar and from different positions.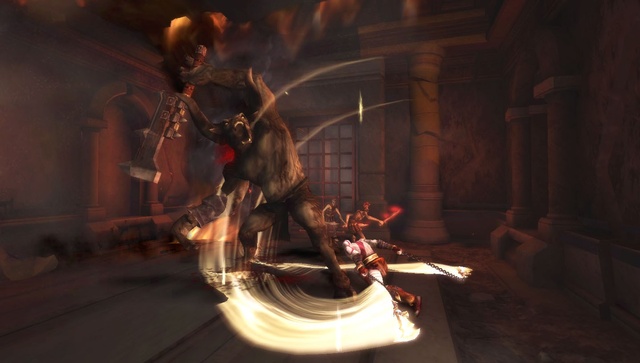 Features:
New Combat and Weapon System – Enhanced melee combat features more in your face action with 'Combat Rush,' which enables Kratos to pummel enemies to the ground as well as throw them, an augmented death system featuring unique weapon and magic specific deaths, as well as a larger variety of combination, finishing and air-to-air combat moves. Players will also have new weapons to wield such as the Spear and Shield with its fully fleshed out combat tree along with new magical powers for more lethal attacks.
Bigger Bosses, More Enemies – Ghost of Sparta boasts bigger and more diverse gameplay than Chains of Olympus. This results in exponentially larger bosses, double the enemies on-screen with more diverse behaviors, and new navigation types all of which add to a more engaging and immersive gameplay experience.
Stunning Visuals – Engine enhancements provide stunning graphics and dramatic camera angles that are coupled with weather effects, depth of field, and higher quality environments to offer visuals that have never been seen before on the PSP system.
Epic Story – Keeping true to the God of War franchise, Ghost of Sparta provides compelling new adventure for Kratos, one that will go deeper into his past that ever before and answer long-awaited questions about the Spartan warrior.
Puzzle Solving – As players explore the ancient world, prepare to navigate through a labyrinth of challenging puzzles interwoven into the story.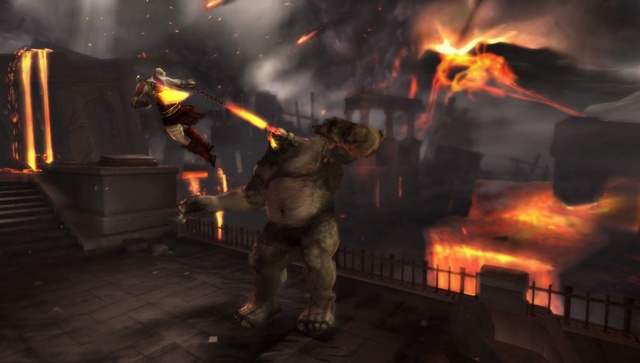 This is a list of characters confirmed to appear in Ghost of Sparta.
TC Carson as Kratos: A former servant to the gods of Olympus. Now the new God of War after having defeated the former Ares, Kratos embarks on a journey to reveal origins of his past and to save his brother Deimos.
Athena: The goddess of wisdom.
Deimos: Kratos' brother.
Ares: The former God of War.
The Grave Digger:
King Midas:
Callisto: Kratos and Deimos' mother. She reveals the identity of Kratos' father to which transforms her into a beast.
Thera: A lava Titan that when freed by Kratos, brings about the destruction of Atlantis.
Poseidon: The God of the Seas.
Erinys: Daughter of Thanatos.
Thanatos: The God of Death, father of Erinys, and final boss.
The Last Spartan: