CooL: Group COMPLEX released the new game "Dead Space 3 " for xbox360. Enjoy!
TheSurfer: So Viseceral Games are back for the third i sequel in the Dead Space series. Despite de usual scenery – a lost ship, the action is now being held on a  lost ice planet (deja-vu?). The release come in 2 DVD9 discs which belongs to group COMPLEX with a region free status. You only need to make sure you have the perfect environment – loud speaker and a late hour. Have fun!
Genre: Third Person Survival Horror Shooter
Release Date: Feb 5, 2013
Platforms: Xbox360 | PS3 | PC
Gameplay Modes: Single-Player, Co-op
Developer: Visceral Games
Ratings: Metacritic: N/A

Dead Space 3 XBOX360-COMPLEX
2 DVD9 | 15.76 GB | complex-deadspace3a
Region: Free
Description: Dead Space 3 brings Isaac Clarke and merciless soldier John Carver on a journey across space to discover the source of the Necromorph outbreak. Crash-landed on the frozen planet of Tau Volantis, Isaac must comb the harsh environment for raw materials and scavenged parts. He will then put his engineering skills to the ultimate test to create and customize weapons and survival tools.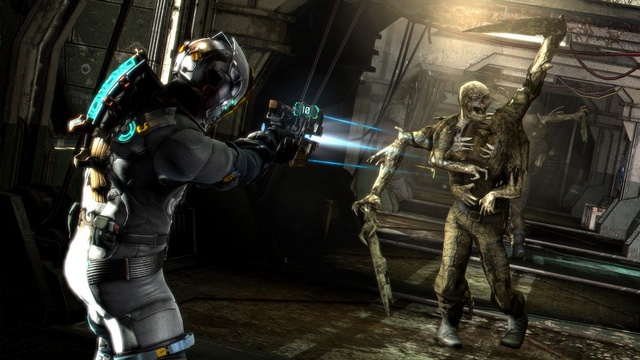 The ice planet holds the key to ending the Necromorph plague forever, but first Isaac must overcome avalanches, treacherous ice-climbs, and the violent wilderness. Facing deadlier evolved enemies and the brutal elements, Isaac can choose to team up, not only for his own survival, but for that of mankind's. Play together with a friend or go it alone as Isaac Clarke using the seamless new drop in, drop out co-op functionality. Each mode offers unique story elements and gameplay.
Dead Space 3 pits player character Isaac Clarke against the Necromorphs, human corpses reanimated by the signal of a Marker.The Resource Integration Gear (RIG) suit also returns, using holographic displays projected from the players' suit and weapons to display health and ammo count, respectively. In vacuum areas a timer will appear on the player's right shoulder, indicating how much oxygen that character has left before they suffocate.
side from returning Necromorphs, Dead Space 3 features a large cast of reanimated enemies. One example is the Waster, whose attacks change depending on how it is dismembered; while another is the Nexus, an insect-like giant that can crush or swallow people whole.Other obstacles in Dead Space 3 include a new human enemy, Unitologist soldiers; and environmental hazards like falling machinery and a giant mining drill.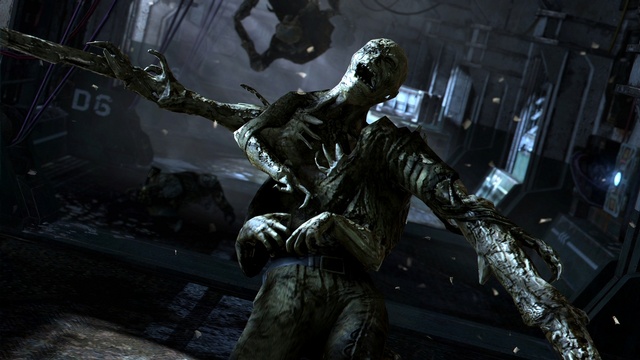 Features:
Team up and take down the terror together

Change the Game. Fighting alongside a co-op partner changes the way you play the game. While playing the co-op version of Dead Space 3's campaign, you will uncover additional story elements, cut-scenes, and battle strategies that are exclusive to this mode. Play how you want – immerse yourself in the classic single-player campaign with Isaac Clarke, then discover how the story evolves when a co-op partner is present in your campaign.
Play as Carver. Dead Space 3 introduces Earthgov Sergeant John Carver, a merciless soldier with a complex history that is revealed during the co-op campaign. Unlock collectibles and new paths using clues only Carver can see as he comes to grips with his traumatic past. Together with Isaac Clarke you will fight to discover the secret to stopping the Necromorph infestation.
Drop in drop out. Play together with a friend or go it alone as Isaac Clarke using the seamless new drop in, drop out functionality. Your partner can join and leave at any checkpoint in the game, so you'll never have to backtrack or play catch-up.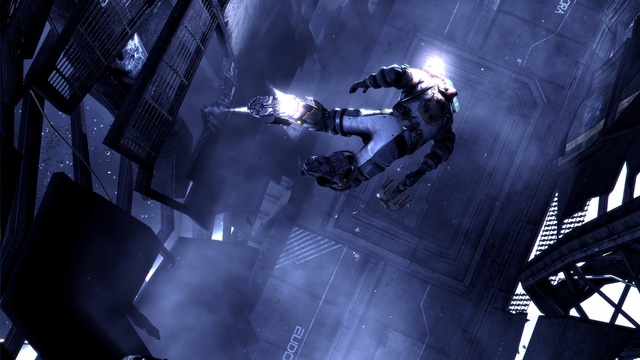 Head planet side and experience a hostile new environment

Discover underworld cities and accept side missions
Explore the frozen terrain and search abandoned encampments
Team up with a partner as Isaac Clarke or John Carver and take down the terror together. Facing deadlier evolved enemies and the brutal elements, the unlikely pair will work together to build weapons, overcome the harsh environment, and save mankind from the impending apocalypse.

Uncover the past and embark on a thrilling expedition to save mankind

Discover the source of the Necromorph terror and fight to fend off the extinction of the human race
Uncover the secrets of Tau Volantis. Set out on a thrilling expedition across space. Isaac will face his biggest challenges yet as he pushes himself to the limit in order to find the true source of the Necromorph plague. Race across the universe, overcome the ice planet's terrors, and take down some of the biggest enemies in Dead Space as you discover the secret of the Necromorph terror.

Weapon crafting

Collecting Parts. Throughout the derelict flotilla and frozen wasteland of Tau Volantis, Isaac will need to piece together his arsenal from the remains of a two hundred-year-old lost expedition. By carefully rationing his resources, he'll be able to survive the Necromorph plague and potentially bring an end to humanity's existential threat.
Weapons Bench. With a new and upgraded weapons building system, Isaac will be able utilize his collected resources to develop custom weapons. Every resource collected can be used to build personalized tools of battle. Whether it's a plasma cutter with a force gun strapped underneath, or javelin gun with an attached flamethrower, there are nearly unlimited choices in how you take down enemies.
Bringing It all Together. The Weapons Bench allows you to create your weapon piece by piece. Build around a particular frame, or set your favorite engine as the focal point and add on to it until you have developed your ideal blend of power and efficiency. When it all comes together, will you survive?
Share your weapon. After you've created the perfect weapon, share it with your friends instantly so they can reap the benefits of the blueprints you've put together. They can even take your creation and add their own resources to it, giving it their own unique twist.