MARVEL takes the PlayStation release too for Crysis 2 and that's a good news, because they are always delivering quality. Enjoy!
Genre: First-Person Shooter | Sci-Fi
Release Date: March 22, 2011
Platforms: Xbox 360 | PS3 | PC
Gameplay Modes: Single-Player | Multi-Player
Developer: Crytek Frankfurt | Crytek UK
Ratings: Metacritic: N/A

Crysis.2.PS3-MARVEL
External HDD | 5.14 GB | mvlp-cry2
Region: All
Description: Whether played in 3D or standard 2D, Crysis 2 drops players into a devastated New York in the midst of an attack by a frightening alien species. The alien enemies are armed with deadly weaponry and exceptional sensory abilities that test players' skill and push them to the limit. These terrifying invaders stalk the streets of New York, leaving the streets in chaos and the skyline in flaming ruin. Surrounded by catastrophic destruction, players harness the superhuman abilities of the Nanosuit to level the playing field, becoming the ultimate weapon on a mission to save New York.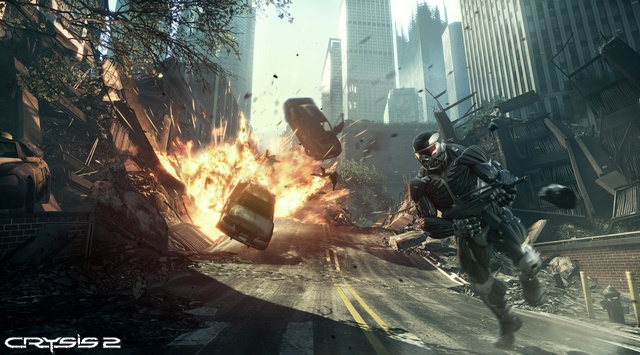 It's 2023, terrifying alien invaders stalk the New York City streets. Only you can prevail, wielding the supersoldier enhancements of Nanosuit 2.
The world has been ravaged by a series of climatic disasters and society is on the verge of total breakdown. Now the aliens have returned, with a full invasion force bent on nothing less than the total annihilation of mankind, starting by trying to rip the heart out of Earth's most iconic city. In New York, terrifying alien invaders stalk the streets and a nightmare plague strikes down the city's myriad inhabitants with brutal epidemic speed.
The city's systems are in chaos, its streets and skyline are smashed and in flaming ruin. This is New York City like you've never seen it before. Neither paramilitary law enforcement nor the might of the US military machine can stand against the invaders, and all who choose not to flee are dead men walking. Just to survive in this maelstrom of death will require technology beyond anything any modern soldier has ever seen. One man will inherit that means to survive. One supersoldier, wielding the combat enhancement technology of the future with Nanosuit 2, will make the last stand to save humanity from destruction in the urban jungle that is New York City.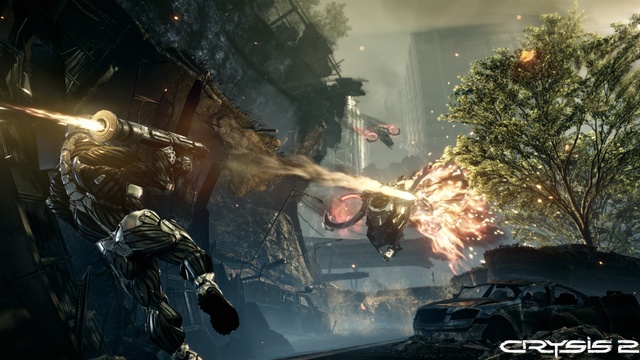 Features:
New York New York: Crysis® set the visual benchmark for PC games that still stands today. Crysis 2 will redefine the benchmark on console and PC platforms, shifting their attention to the rich urban jungle of New York City.
Amazing Aliens and AI: Challenging best-in-class AI with unique group coordination and group behaviour systems which give realistic responses to your actions.
Nanosuit 2: Adapt your combat tactics by customising your Nanosuit and weapons in real time with revised modes, unlocking a variety of supersoldier abilities.
Multiplayer: World-renowned multi-player shooter studio Crytek UK is going to reinvent multiplayer with the dynamic intensity of Nanosuit 2. By using Nanosuit technology the player has nearly unlimited ways to approach the dynamic combat environment.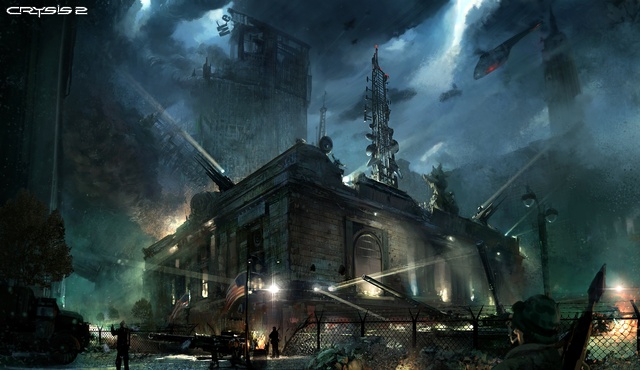 BE STRONG – Take on multiple enemies with Armor mode, mince them with heavy weapons or squash them by kicking cars.
BE FAST – Get to the action quickly, then powerjump, ledgegrab and slide round the environment with amazing agility.
BE INVISIBLE – Use Stealth mode to set traps or hit and run your enemies, or snipe from a concealed position.
BE THE WEAPON – With the Nanosuit, you choose how you want to play.